Hello lovelies!
It's something that is going on the April 20, 2012! It's call the Day of Silence.
The first DOS was in 1996, and was led on the University of Virginia campus. Now more than 8000 campuses participate in DOS as of 2008, and has only grown.
This April 20, I, myself, will be participating in it. For the past 4 years, I have participated (I was introduced to it my freshmen year. And throughout the past 4 years, I was silent every single DOS. DOS is a way to show you are a supporter of the LGBTQ (Lesbian Gay Bisexual Transgender and Questioning) community. It was started to show how many LGBTQ youths are silenced by hate crimes.
I have learned a lot in my four years of high school and DOS. I am so happy that my school has a GSA (Gay-Straight Alliance) that can make the DOS everything it is.
On with the other news, Easter is this weekend, and this is the last break I get in my entire high school career. It is down to 33 days to my last day of school, my last last day of school, and I cannot wait.
Oh! I bought a new pair of shorts! They are soo cute! They are lace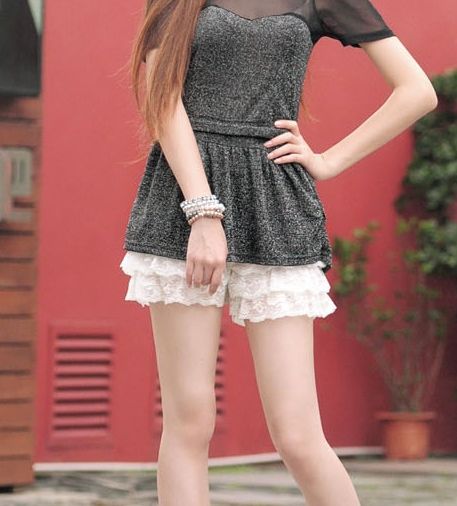 They are just so sweet and lace like! But I have no idea what I am going to pair with them! I don't have a skirt like in the picture They also come in black, or red! They were so inexpensive and I think they are Liz Lisa! They rock! I probably will not get them until at least a wekk or so before my birthday!
Speaking of birthdays! Mine is in 27 days! May 4th I will be 18! And I am so excited, I am going to have a birthday dinner with family, then I have no idea what I am doing!
Well, that's it for now.
Je ne, and stay beautiful lovelites,
NanaRen